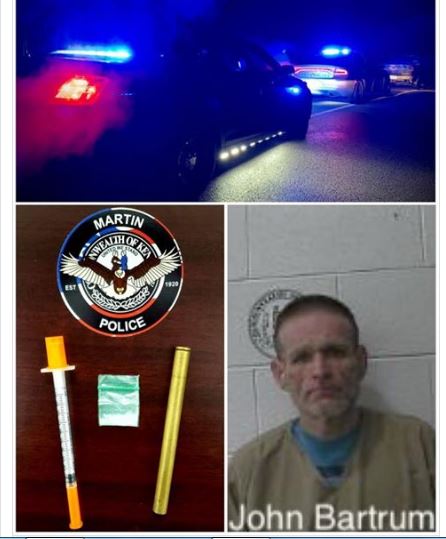 A traffic stop at Bucks Branch in Martin, KY leads to 1 arrested on Drug Charges.
On Wednesday February 12, 2020 at Approximately 3:00AM Martin City Police Officer Brad Stidham, along with Kentucky State Police conducted a traffic stop in the Bucks Branch area of Martin where John Z. Bartrum age 45 of Bucks Branch Martin, KY was arrested and charged with 1) Possession Control Substance 1st Degree, 1st Offense (METHAMPHETAMINE) 2) 2 Counts of Drug Paraphernalia-BUY/POSSESS 3) Operating On Suspended Or Revoked Operators License 4) Failure To Wear Seat Belts 5) Disregarding Stop Sign.
Mr. Bartrum was lodged in the Floyd County Detention Center.
The Martin City Police Department was assisted by the Kentucky State Police Post #9.
Should you have any information about the illegal sale of drugs, or any illegal activity in the Martin County area, the MArtin Police Department asks that you call at (606) 949-1402. You can remain anonymous.