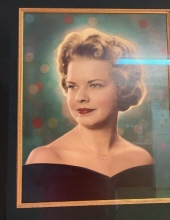 Linda Johnson Templeton, age 77 formerly of Virgie and Bradenton, Florida passed away, Wednesday, September 9, 2020 at the Pikeville Medical Center.
She was born in Pikeville, Kentucky on December 10, 1942 the daughter of the late Evelyn H. and Woodrow W. Johnson of Virgie.
Graveside Services will be 3:00 p.m. Friday, September 11, 2020 at the Annie E. Young Cemetery at Shelbiana, Ky. with Dave Hammond officiating. Burial will follow in the Annie E. Young Cemetery.
In lieu of flowers, please make contributions to the Woodrow and Evelyn Johnson Scholarship Fund, Shelby Valley High School, 125 Douglas Park, Pikeville, Ky. 41501 or the Linda J. Templeton Foundation, Feed The Children, Through The Foundation for Appalachian Kentucky, 420 Main St., Hazard, Ky. 41701
Obituary courtesy of J.W. Call and Son Funeral Home