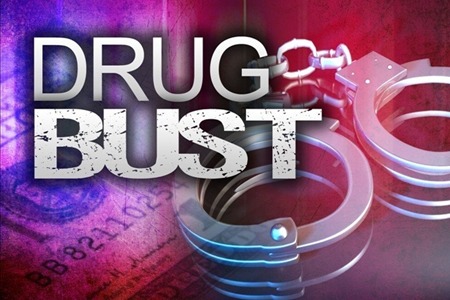 The Floyd County Sheriff's office made numerous drug related arrests over the weekend for heroin, fentanyl and other illegal drugs.
In response to several tips and complaints of illegal drug activity in the Ivel community, Sheriff Hunt and deputies made several arrests over the weekend. On Friday night deputies made a traffic stop on US 23 at Ivel. Deputies discovered that one of the occupants in that vehicle was a fugitive and wanted out of Illinois. Deputies also found illegal drugs in the vehicle and both occupants were arrested on numerous drug charges.
Later Friday night early Saturday morning, deputies again made a stop on a vehicle in the Ivel community and soon discovered that the occupant inside that vehicle was wanted on parole violation charges. Deputies also discovered fentanyl, heroin and other drugs along with drug paraphernalia.
Saturday evening deputies executed a search warrant at a residence in the Ivel Community. During that search, deputies seized more heroin, fentanyl, crystal meth and discovered the home owner in possession of a sawed off shotgun while being a convicted felon.
Those arrested and charged are:
Jeffery Kyle Halbert, 38 of Maytown, Poss controlled substance-Fentanyl
Tampering with physical evidence
Giving officer false information
Drug paraphernalia
Parole warrant
Jessica Bertram, 41 of Maytown, Poss controlled substance 1st-Heroin
Drug paraphernalia
Brittany Adkins, 32 of Pikeville, Poss controlled substance 1st- oxycodone
Poss controlled substance 3rd-gabapentin
Kadince Blair, 30 of Isom,
Poss controlled substance 1st-oxycodone
Poss of controlled substance 3rd-gabapentin
Extradition warrant from Indiana
Randy Wallen, 45 of Ivel,
Trafficking 1st-Fentanyl
Trafficking 1st- Heroin
Trafficking 1st-Methamphetamines
Trafficking 2nd- hallucinogens (mushrooms)
Poss of marijuana
Poss of defaced firearm
Poss of firearm by convicted felon
Fleeing and evading 2nd- on foot
Resisting arrest
Chris Hamilton, 44 of Ivel,
3 outstanding warrants
All were lodged in the Floyd Co Jail and additional charges pending as the investigation continues.