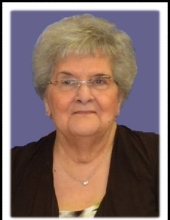 Lois Evelyn Daniel, 87, of Hager Hill, Kentucky died Friday, March 10, 2023. She was born on February 29, 1936 to the late Alex Dotson and Sylvia Doston.
Funeral services will be held 11:00am Wednesday, March 15, 2023 in the chapel of the Phelps & Son Funeral Home with Christopher Daniel, Paul Wayne Browning and Ben Stephens officiating. Burial will follow in the Lakeview Memorial Cemetery at Staffordsville, Kentucky. Friends may visit the Phelps & Son Funeral Home from 5:00pm to 9:00pm Tuesday and anytime prior to the service on Wednesday. In lieu of flowers, the family has asked that contributions be made to www.stjude.org.
Arrangements are under the direction of the Phelps & Son Funeral Home.
Obituary courtesy of Phelps & Son Funeral Home