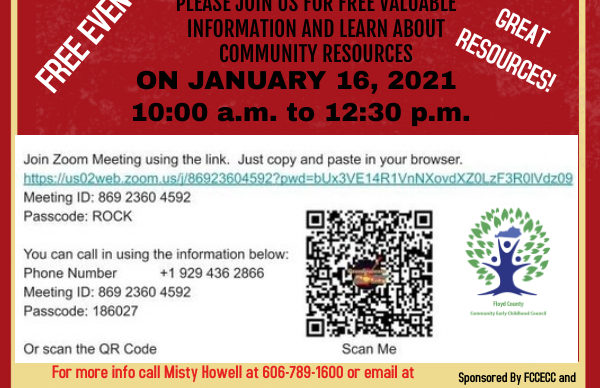 The Floyd County Community Early Childhood Center will be having a virtual event for Grandparents on January 16th.
It's a free virtual event for grandparents (or other relatives) raising kids 0 to 5 years of age.
The event will provide valuable information and the opportunity to learn about community resources
Topics that will be discussed:
Kindergarten Readiness 10:00-10:35 a.m.
Stress Management 10:35-11:05 a.m.
-Break- 11:05-11:15 a.m.
Rights and Responsibilities 11:20-11:50 a.m.
Technology Tips 11:50-12:20 p.m.
Wrap up 12:20-12:30 p.m.
Door prices given after each session but you must be present to win!
Join Zoom Meeting using this link:
Join our Cloud HD Video Meeting
Meeting ID: 869 2360 4592
Passcode: ROCK
You can also call in using this number: +1 929 436 2866
Passcode: 186027
Want more information? Here's who you can contact:
Misty Howell
(606)789-1600
mshowell@bsacap.org
Anna Shepherd
(606)886-4555
anna.shepherd@floyd.kyschools.us