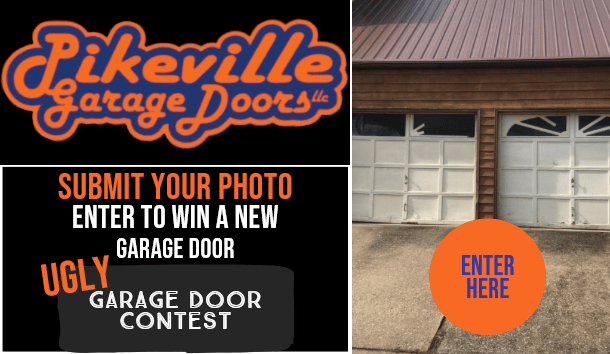 Pikeville Garage Doors is giving YOU the chance to win a FREE garage door!
NO PURCHASE IS NECESSARY. PURCHASE DOES NOT INCREASE ODDS OF
WINNING.
The Ugly Door Contest is presented by, sponsored by and ultimately awarded by Pikeville Garage
Doors llc and WQHY Q95 FM.
& the rules are simple!
HOW TO ENTER:
Like AND follow Pikeville Garage doors Facebook page and Q95FMs Facebook page
SUBMIT YOUR PHOTO!

You can do that by reading all of the fun stuff below and clicking ENTER HERE at the bottom of the page!
IMPORTANT DATES!
Submission period: 11/11/19—-12/15/19
Voting period: 12/16/19—-01/12/20
Winner announced 01/15/20
Schedule door replacement period: 01/15/20—- 02/29/20
HOW TO WIN:
Contest begins NOVEMBER 11, 2019. All qualified individuals with photos of the front of
their garage door will be allowed to participate. Participants must reside within our regular service area to
qualify. If in doubt, please call us to verify your location is within our service area prior to entry. The staff At
wqhy q 95 fm will upload each photo on their web page page on December 15 th 2019. Voting starts once
the Album is published and will continue until January 11 2019. The top photo with the most votes will win.
Winner will be announced 1-13-2019-1-26-2019 for the grand prize as noted below.
Pikeville Garage Doors llc has the right to choose an alternative winner based on eligibility requirements outlined below.
Each entry will be given a voting spot. Participants of the contest, and those who vote (like) on the ugly door
photos must "like" and "follow" PIKEVILLE GARAGE DOORS' Facebook page for votes to count. Participants
are encouraged to tell their friends and family, and everyone they know(or dont know) to have them like the
PIKEVILLE GARAGE DOORS Facebook page and vote on their ugly door photo.
Only one participant per household will be allowed to participate in this contest. This includes both related and
non-related individuals residing at the same address. No substitutes will be allowed for under aged or
contestants deemed invalid through other means. Prize may only be installed with the express written consent
of the homeowner. Delivery and installation only applies to residents within our regular service area . Must be
18 years of age or older to be eligible for prize.
Service area includes the following counties in Ky , Pike ,Floyd ,Johnson ,Martin, Magoffin ,Knott ,Letcher, and
Perry . IN VA, Wise, IN WV, Mingo, Logan counties.
ENTRY PRIZE: All qualified participants will receive a GIFT CERTIFICATE valued at $50.00 OFF any New
Door purchase. .Certificates will be Emailed to email provided on entry form. No change will be given as
cash. Prize is not redeemable for cash. Prize can be used in conjunction with any other current promotion.
Gift CERTIFICATE must be presented to Pikeville Garage Doors at time of purchase to be awarded.
GRAND PRIZE: A package valued at up to $2500.00 will be awarded to winner. This Included a new Amarr
Brand Lincoln series non insulated door up to 16'x7'.a New Chamberlain/Liftmaster opener with 7' rail and
Weather stripping and Installation of the door and opener and includes disposal of the replaced garage door.
In some atypical situations additional hardware or labor may be required and there could be nominal out-of-
pocket expenses. The homeowner can also upgrade the door and accessories. In this instance, there would
be an out-of-pocket expense for the remaining balance of the garage door. Any additional taxes, fees and
surcharges are not included. Grand Prize cannot be used in conjunction with any other discount or
promotion. Only one promotion per customer per household. Pre-site inspection and installation will be
done by Pikeville Garage Doors llc.. A standard 1-Year Labor Warranty will be included. Manufacturers
warranty is also included.