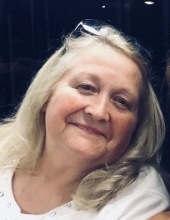 Carolyn Jean "Grammy " Rogers Spears, age 66, of Harold, Kentucky passed away Wednesday November 6, 2019 at Pikeville Medical Center. Grammy was born February 11, 1953 in Pikeville, Kentucky. She was formerly a book keeper and was a member of the New Beginnings Fellowship Church in Pikeville, Kentucky.
Pallbearers will be; Tommy Wright, Ricky Goble, Phillip Carter, Wayne Rogers, Lester Rogers, Larry Rogers, Brett Rogers, Steven Rogers, and Jamey Kidd.
Visitation will be at J. W. Call & Son Funeral home beginning at 6:00 P.M. Thursday November 7, 2019
Visitation will be from 6:00 P.M. until 9:00 P.M. Thursday and Friday evenings with evening services Friday evening at 7:00 P.M.
The funeral service will be at the funeral home Saturday November 9, 2019 at 11:00 A.M. with Jared Arnett officiating.
Entombment will follow at the Roy and Carolyn Spears family cemetery.
Obituary Courtesy of  J.W. Call Funeral Home