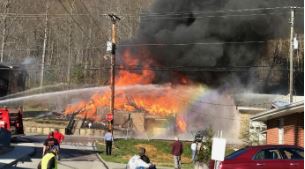 Several buildings were destroyed or damaged in a fire in Leslie County Thursday afternoon.
Firefighters battled flames on Hickory Street in Hyden.
Two homes were destroyed. A third home was damaged, and the flames damaged the Leslie County Health Department as well.
The home where the fire initially happened went up in flame so fast that's what caused the damages to the homes on both sides. One of those homes was just damaged in the garage, the other had exterior damage but no internal damage. There was also some damage across the street due to the sheer intensity of the fire to the Leslie County Health Department. They had some shingles there melt.
Reports are saying a roof fell on one of the firefighters but he is expected to be okay. He was taken to the hospital as a precaution. No other injuries have been reported so far.
One family of six is now without a home because of the fire. For firefighters, in this small community, fighting this blaze hit too close to home.
Firefighters said that both of the families did have fire insurance and are expected to be covered in that regard.
We do not know what caused the fire at this time.