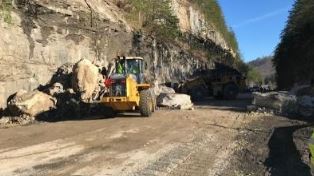 Hwy. 15 in Knott County is back open following a rockslide Thursday afternoon.
Drivers will still need to be careful because there is a lot of mud and dust on the road, lowering the visibility in the area.
The rockslide was about 500 feet from the intersection of Hwy. 160, at mile points 4 to 4.5.
Officials with the Kentucky Transportation Cabinet said B&W Coal helped clear the road faster than they anticipated.
The rockslide caused a water line to burst, which slowed down the cleanup a little bit. More than 15,000 people in Knott County are without water. Knott County Water and Sewer said it lost about 600,000 gallons of water due to the line break.
Jared Salmons, the general manager of the water company say this line is Knott County's main connection line to Letcher County. Salmons believes if they can get it fixed in time their tanks should keep the majority of those with water.
The water company will sent a crew out to fix the water line Thursday evening and continue to work. Drive carefully where crew members are working.