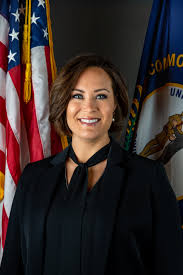 The K-12 school COVID-19 self-reported data dashboard went live on Sept. 29.
"The dashboard provides an opportunity for school districts, local health departments and health care providers to work together for a safe return to in-person classes for every child," the Lieutenant Governor said. "Each community has actionable information that helps keep Kentucky open for business and on a path to a sustained return to in-person classes – which is what we all want for our kids."
Lt. Gov. Coleman, who also serves as secretary of the Kentucky Education and Workforce Development Cabinet, noted that all schools are required to report positive COVID-19 cases each weekday. Local health departments collect this information and transmit it to the Kentucky Department for Public Health (KDPH), where it goes through a verification process.
"All of this data can be found for your school, your community, and the entire commonwealth at kycovid19.ky.gov," she said.
The Lieutenant Governor said that currently there are 1,732 schools in the database. At last report, there were nearly 800 students and more than 130 students in quarantine. Unfortunately, she also said more than 200 schools have failed to provide the required information.
"That is unacceptable and irresponsible," Lt. Gov. Coleman said. "It jeopardizes the health of your students, school staff, their families and your community."
She encouraged all districts to make the reporting a top priority.