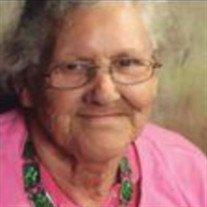 Martha Faye Adams, age 79, a resident of Jim Arnett Branch in Salyersville Kentucky, passed away Sunday, May 2, 2021 at Highlands ARH Medical Center in Prestonsburg, Kentucky.
Martha was born February, 2, 1942 in Salyersville, Kentucky the daughter of the late Charlie and Nettie Holbrooks Holland. Husband Charles Adams, son Jerry Adams, brothers James Holland, Jack Holland, Johnny Holland and Earl Holland, sisters Helen Perkins and Birdie Cole also proceeded her in death.
She loved her family and spent every opportunity she had with them. She was of the Pentecostal faith and loved going to church.
Funeral services for Martha Faye Adams will be conducted Friday May,7 at 1:00 PM from the There is Hope Ministry on Jim Arnett Branch in Salyersville, Kentucky. Interment will follow in the Adams and Rice Cemetery on Jim Arnett Branch. The family will welcome friends Wednesday, May 5 after 6 PM, all day Thursday and anytime prior to the funeral service.
Obituary Courtesy of Salyersville Funeral Home.